---
"The goal of halving global emissions by 2030 represents the absolute minimum we must achieve if we are to have at least a 50 per cent chance of safeguarding humanity from the worst impacts. We are in the critical decade."
Christiana Figueres & Tom Rivett-Carnac
International Leaders on Global Climate Change and authors of The Future We Choose
---
Garage Society is focusing on sustainability as part of our Change series. We'll explore what small changes we can do as individuals to contribute towards a healthier ecosystem, and the ripple effect it can have on the community. Read on to discover some easy tips to adopt a greener lifestyle.
Plus, read till the end for 2 eco-friendly Garage Perks for our Singapore members!
---
Sustainability has always been a topic of discussion, more so in recent years. As consumers become more mindful of the products they purchase and consume, companies recognize the need to step up their sustainability credentials. Some notable examples by industry leaders include Nike's Move To Zero and Nestlé's 2030 target of zero environmental impact in its operations.
Beyond CSR, sustainability is a collective responsibility where everyone can play their part in reducing their environmental footprint. A common misconception about living sustainably is that it requires a big lifestyle change. With our 5 easy eco-tips to help get you started at home and work, you'll find that it's not so difficult after all!
---
Related Articles:
---
Bring Your Own Reusable Cutlery and Containers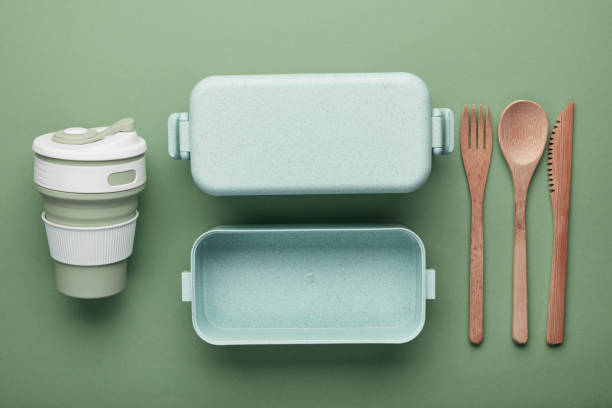 Pick up some reusable containers, mugs, glasses and cutlery to reduce single-use plastic wastage the next time you're dining out or grabbing coffee. Some food & beverage establishments actually offer a discount if you bring your own mug or container!
Recycle!
Set up a recycling point in your home and locate your nearest recycling collection points to dispose of it. It's important to rinse your recycling before putting it in the bin, and always recycle responsibly and properly (source).
For Hong Kong, you can refer to these links for what and where you can recycle.
For Singapore, recycling bins are located islandwide. To find out what can or cannot be recycled in Singapore, here's a list for you to refer to!
Shop Sustainably During Your Next Grocery Run
Plan your grocery list ahead of time to avoid any unnecessary purchases that could lead to food wastage!

Purchase locally farmed produce - It reduces your environmental impact as the products use less fuel and other natural resources to reach you, and also supports the country's food security and economy. Plus, it's usually more fresh and nutritious too!

Purchase fair-trade products - These items were grown using sustainable agricultural methods and the local farmers are paid fairly for the goods they produced (source)

Bring your own reusable bags instead of using plastic bags at checkout.
Donate Excess Non-Perishable Food in your Pantry
You can donate your excess, unopened, unexpired food items to food banks in both Hong Kong and Singapore, where it's redistributed to those in need.
Hong Kong's Food Angel has several collection points for you to choose from. More information can be found here.
Food Bank Singapore's donation boxes are located across the island. More information here.
Reduce Household Energy Use
Turn off any lights/appliances that are not in use

Install energy-efficient appliances where possible

Hang your clothes to dry instead of using the dryer

If possible, consider powering your home using renewable energy

Go paperless - opt to receive your invoices and bills online
---
Garage Society Singapore Perks Partners
At Garage Society, we're proud to partner with members and support our extended community, who are all doing their part in reducing the impact on our environment.
One such business is our Garage Perks Partner, Crust Group. This innovative Singaporean business turns thrown-out unsold bread into unique beverages including craft beer. To learn more about Crust and their story, check out our webinar discussion on sustainability with Founder Travin Singh and CMO Shen Lee.
They've offered 10% off for Garage Society members, on all beer purchases in 2021! Just enter promo code "GARAGESOCIETY" at checkout.
Another notable brand in Singapore is Grain, with a mission to improve lives through meaningful food experiences. Grain uses sustainable ingredients, biodegradable packaging, and are constantly thinking of ways to reduce their carbon footprint. Plus, their food is healthy and tastes absolutely divine!
Enjoy 5% off your order using promo code "TheGarageSociety5Off" at checkout, valid now until 31 Dec 2021!
---
If you're looking for a coworking space, look no further. Founded in 2014, Garage Society offers flexible workspace solutions and support which help individuals and businesses work to their strengths. With flexible WorkStyle Solutions in prime locations across Hong Kong, Singapore and India, our network helps businesses connect, collaborate and grow across the region and beyond.

Reach out to us for more information, or to arrange a visit today!