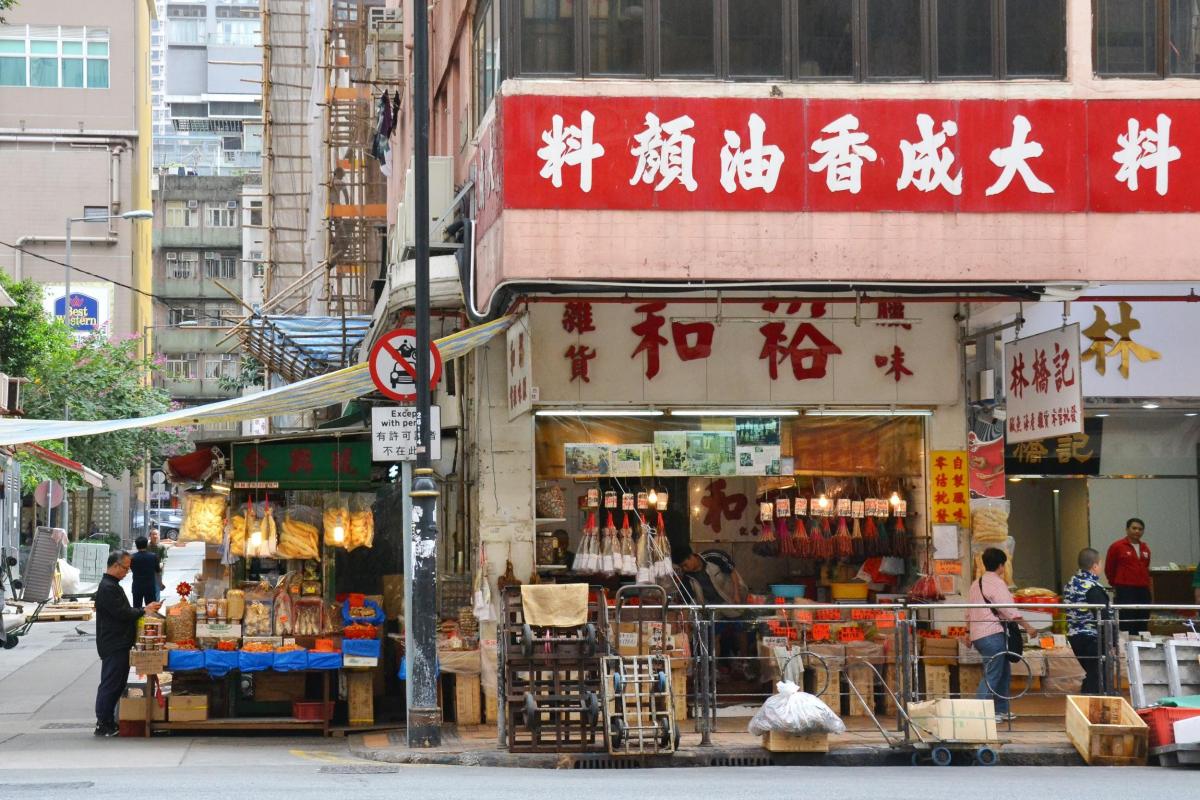 Sai Ying Pun, a new hotbed of urban cool, has attracted a flock of businesses to settle in recent years. Not only is Sai Ying Pun's food scene thriving, but it also houses some of the best co-working spaces in Hong Kong. Here are the five reasons why Sai Ying Pun is the best co-working area in Hong Kong and why you should consider beginning your co-working journey here.
IT IS CLOSE TO CENTRAL

Thanks to the MTR extension, going to Sai Ying Pun is only two stops away from Central. More importantly, it is far enough from the chaos and the crowds. You will find yourself walking leisurely in the narrow and hilly streets, sometimes stopping by the chic boutiques that share the same streets with local groceries, instead of being forced into a constant state of rush, passing through a sea of people. When you want to take a break from desk meals, you will no longer have to waste half of your lunch hours queuing up for just a seat to eat in.
IT IS WHERE MODERNITY MEETS HERITAGE
Sai Ying Pun retains a lot of old-world charm and prevails the feel of a genuine neighbourhood with local shops and live chicken markets. At the same time, it has seen an array of modern restaurants and boutiques springing up alongside. Sai Ying Pun is a place where one will be amazed by the true coalescence of modernity and tradition, where one will find herself/himself on a new adventure every time when he/she sets foot in this wonderfully eclectic enclave, exploring a slew of modern restaurants and boutiques that stand next to heritage buildings and local groceries.
IT IS HOME TO THE CITY'S BEST RESTAURANTS
In Sai Ying Pun, you can eat your way through the world's cuisine. From refined Indonesian cuisine to laid-back tapas bars, your cravings will always be satisfied. For example:
Uncle Padak
With 10 branches in the mainland, Korean fried chicken chain Uncle Padak opened its first Hong Kong store in Sai Ying Pun in 2014. Trust us, you will never be able to resist the crispy pieces of deliciously moist chicken, rice balls, grilled corn with cheese and its signature "Spring Onion Chicken".
59 High Street, Sai Ying Pun, Hong Kong
High Street Cart Noodles
When you are craving for noodles, look no further to High Street Cart Noodles to get the fix. You can customise everything from soup base to toppings. If you are not in the mood for a full meal, you can also get street snacks like Siu Mai from the stall out front.
39 High Street, Sai Ying Pun
Krua Walaiphan
While most of the authentic Thai restaurants are known to reside in Kowloon city, Kru Walaiphan is the game-changer on the Hong Kong island. The restaurant serves homemade food prepared personally by Chef Walaiphan and her team who sources the most authentic ingredients from Thailand daily.
G/F, Ko Wang Court, 29 High Street, Sai Ying Pun, Hong Kong
IT HAS ONE OF THE MOST THRIVING ART SCENES IN HONG KONG
Sai Ying Pun is on its way to dethroning Sheung Wan as the trendiest neighbourhood, not only because of its ever-growing food scene but also the thriving art scene. It is home to some of the liveliest street art in the city, alongside the coolest and most unique galleries in the city.
Tucked away in between unassuming alleyways and street corners, these galleries display a range of genres from South American art at Bamboo Scenes Gallery to a street and urban art inject at Above Second. You can also explore some of the most colourful street art here in our previous blog post.
IT IS WHERE YOU CAN EMBRACE THE NATURE
Sometimes a small dose of nature is needed to boost productivity and rejuvenate a tiring mind. Besides the appeal of city life, Sai Ying Pun boasts a natural side unrivalled in other city areas. Sun Yat Suen Memorial Park is the ultimate green space, with an unhindered view of the city's harbour. The park includes a well-manicured, large grass lawn, scooter-friendly sidewalks, soccer fields, basketball courts and a playground for family fun. Additionally, there is a long, relaxing waterfront promenade with benches. If you feel like freshening up your clogged mind from a long day of work, you should consider taking a walk there.
By MTR: Sai Ying Pun Station Exit A2, walk towards Victoria Harbour and take the footbridge on Connaught Road West to the Park.
16 Eastern Street North, Sai Ying Pun
GARAGE COLLECTIVE
Garage Collective is a coworking space in Sai Ying Pun that features theatre-style seating on the mezzanine floor with projectors, stellar sound system and acoustics. It boasts F&B offerings, pop-up stores and creative event spaces, aiming to provide a holistic experience that encourages collaboration, innovation and business networking. Like many other co-working offices of Garage Society, Garage Collective offers flexible workspace solutions in an all-inclusive deal with no hidden cost. Here are some workspace solutions:
HOT-DESKING
If you are working solo and do not mind sharing with others, a hot-desking plan will be the best fit. Depending on your business needs, a hot-desking plan varies from light to part-time to full-time, all with a locker storage unit.
Light Hot-Desking: 5 days of access per month at HKD$ 1200
Part-time Hot-Desking: 10 days of access per month at HKD$ 2400
Full-time Hot-Desking: 24/7 access at HKD$ 3800
DEDICATED DESK
If you feel like working in an isolated environment with minimal disturbances, you can choose a dedicated desk. At HKD$4500 per month, you can have a lockable cabinet with more room for privacy.
For more information, check out our plans in more detail here. If you want to look at other areas, please feel free to contact us here at Garage Society. We have 4 great co-working spaces in Hong Kong, 6 in India and South East Asia with a continuous expansion plan. We will be more than happy to invite you in for a site visit to find the perfect place to grow your business.