The Power of Community and Networking
"Things would have worked out so differently had I not gone to Garage and been in the co-working community." Claire Yates, The Lion Rock Press
Claire Yates, the mastermind behind The Lion Rock Press, a family business specialising in premium Hong Kong-inspired gifts, books, and stationery, reflects on her journey. At first Claire was working from home and only connected with our co-work space when she won a competition we ran with a creative agency to find 'HK's Best Start-UP'. Initially unsure about the value of taking a hot desk "my initial reaction to the prize of 60 hours of cowork space was - oh I don't know about this hot desk thing, I have my own desk at home and I don't have to commute" , Claire visited our Sheung Wan space and experienced the community and energy there, realising that it was not just about the physical space, but also about the sense of community and the networking opportunities it provided.
"Literally as soon as I arrived, my life changed"
Working at a hot desk in Sheung Wan quickly connected Claire with our community, exposing her brand to influential publications like Sassy Hong Kong, who's HQ was at Garage Sheung Wan at the time and providing immediate exposure and access to wider networks "which is what is so brilliant about Garage". Those serendipitous connections at an early stage were to prove pivotal in Claire's entrepreneurial journey, with support, connections and opportunities for growth enabling her business to grow quickly.
Building an Adaptable Business
From those early days, The Lion Rock Press expanded rapidly into the market. With growth came new challenges and Claire quickly learned the importance of harnessing technology to get more done while growing her team. Garage Society's internship program, Garage Cadet, played a crucial role in this process and her COO is still the Garage Cadet she hired 8 years ago, who was her first employee and now runs the ops side of both of her businesses.
"Garage provided brilliantly for my requirements as I grew and I felt totally supported and encouraged which gave me the confidence to make brave choices"
Flexible Workspace was also a key support during this time of growth as Claire quickly grew from a hot desk, to a 2 pax office, then a 4 pax, 6 pax and finally up to a 12 pax office at Garage Sheung Wan. With further space being needed as the company expanded, and at one point The Lion Rock Press operating what must have been "one of the most expensive storage & fulfilment centres on the island!". Eventually it was time for them to make a move to their own space - conveniently just a few floors down from our co-workspace, offering a seamless transition for their loyal customer base and allowing Claire to still connect with our community.
Taking cards into the Future
With the pandemic accelerating changes to local markets and putting a dent in the typical customer base for The Lion Rock Press products, managing the business has required constant adjustment and adaptability in the face of ever-changing conditions. Now well-established, Claire's sights are set on a new, some would say unlikely challenge: building Roksaan, a tech platform to provide artists and creatives with a platform to showcase their work through physical customisable greeting cards.
With Roksaan, Rok (as in Lion Rock) and Saan (as in rock in Canto), artists can upload their original greeting card designs onto the platform for ordering, removing the need for physical stock. Roksaan aims to eliminate the many obstacles that have stopped people sending cards by making it simple, easy and convenient… plus offering a huge range of original designs by HK creatives at the tip of your fingers.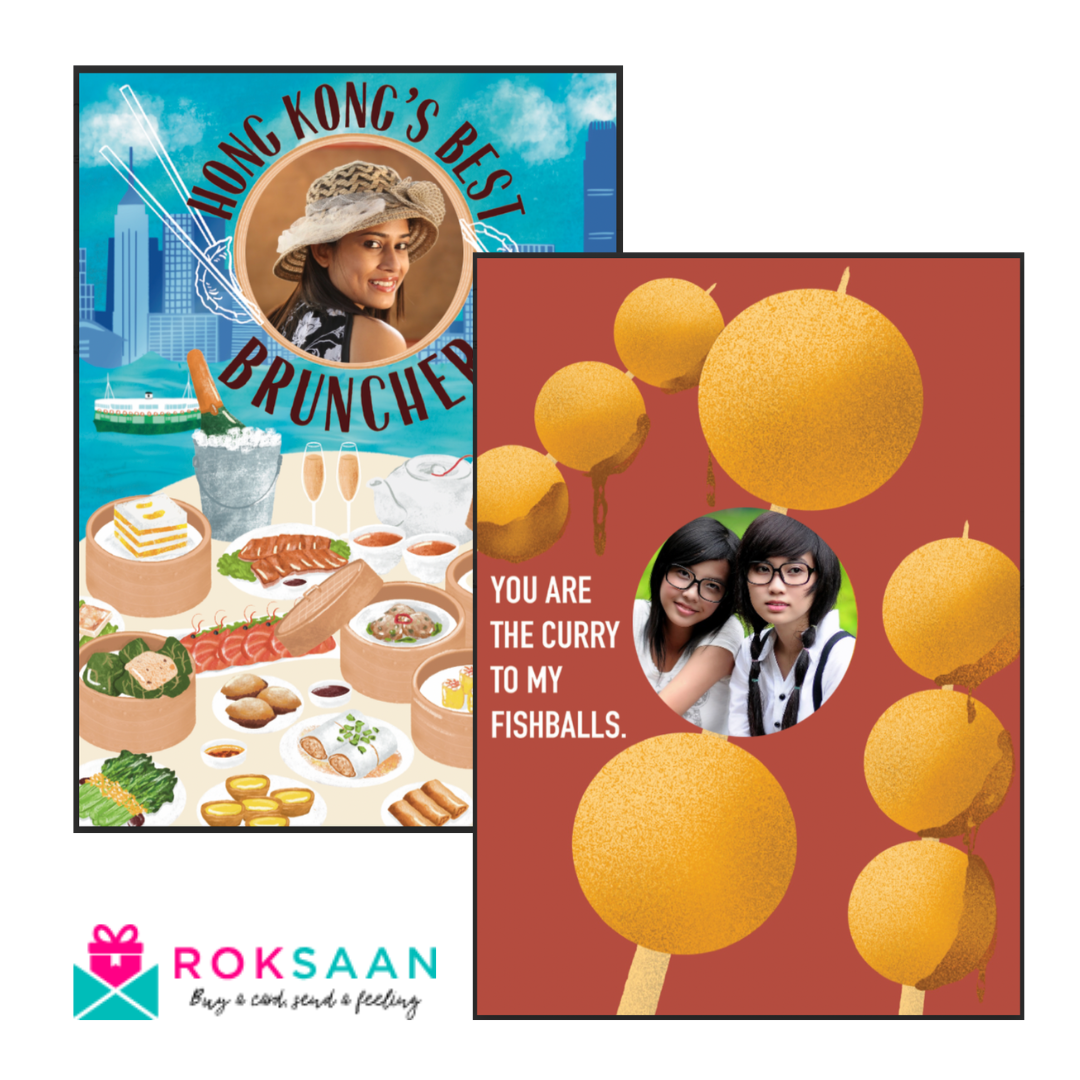 The platform allows users to personalise their chosen design by adding custom touches like names and photos. The printed cards are then shipped to customers, who can choose to either handwrite and give them in person (Roksaan will include an extra envelope) or have them delivered directly to the recipient's address. Additionally, Roksaan plans to offer additional gifts from local businesses, including flowers, chocolates, books, games, candles, and vouchers for local services and experiences.
Let's get physical
'Some young people have never even had that experience. Of someone sending you a physical greeting card just to tell them they are loved, or felt the joy that sending that perfect card brings."
Claire hopes that with Roksaan, a new generation will be able to seamlessly experience the joy of sending and receiving physical cards by providing a convenient and customisable platform for sending physical cards, appealing to both nostalgia and the younger generation's appreciation for retro trends. In a time when vinyl, books, and hands-on experiences are hotter than ever, we eagerly await its launch early next year.
The last word
Growth and innovation occur when you take a risk on an idea, trust your instincts, and go for it. Through our conversation with Claire, it's clear that community and the benefits of shared workspace can be important drivers fueling the fire of that initial idea. Resilient, adaptable, and driven to make a positive impact in the world of business and creativity, we're excited to see where Claire's next entrepreneurial journey takes her.
---
See the success for yourself and visit The Lion Rock Press Showroom at 10/F Arion Commercial Centre, 2-12 Queen's Road West, Sheung Wan and enjoy a 10% discount when using code GARAGE10.
Garage Member?
Enjoy a Free Coffee Mug from The Lion Rock Press!
We're thrilled to announce a special treat for Garage Members in honour of The Lion Rock Press' success.
Throughout the month of October, you can collect a complimentary The Lion Rock Press coffee mug from our Sheung Wan reception. Just drop by and check in with your community manager to claim your gift
---
About Garage Society
Garage Society helps businesses and individuals work better, through WorkStyle solutions tailored for them.
From entrepreneurs to large corporates, we understand the diverse ways in which people work.
We focus on getting to know you and your business so we can tailor a better and smarter way for you to get work done.
Whether it's hot desks, private offices, or custom spaces for enterprises and MNCs, we've got a WorkStyle solution for you.
Interested in flexible workspace at Garage? Get in touch with us.