Google Shopping ads are arguably the fastest-growing format in the world of e-commerce advertising. These ads include product information such as product image, price, and merchant name. Google Shopping Ads are created using data attributes collected from the product information that you submit in your merchant center data feed. These are shown to people who are already looking for the kind of products that are advertised.
Brands can customize their ad content, set a budget that they're comfortable with, and measure the impact of these ads easily with advanced reporting and performance tools.
They allow you to display your products at the top of search results for any search made related to the terms relevant to your products.
These shopping ads will direct the users to your landing pages specific to your products where they can find information about your products and purchase the products directly from your website.
What do these Google Shopping Ads look like?
Google Shopping Ads consist of the title of your product, an image, branding, and your product's price. For a better insight into what Google Shopping Ads look like, take an example of Google Shopping Ads for the keyword "Nike Air".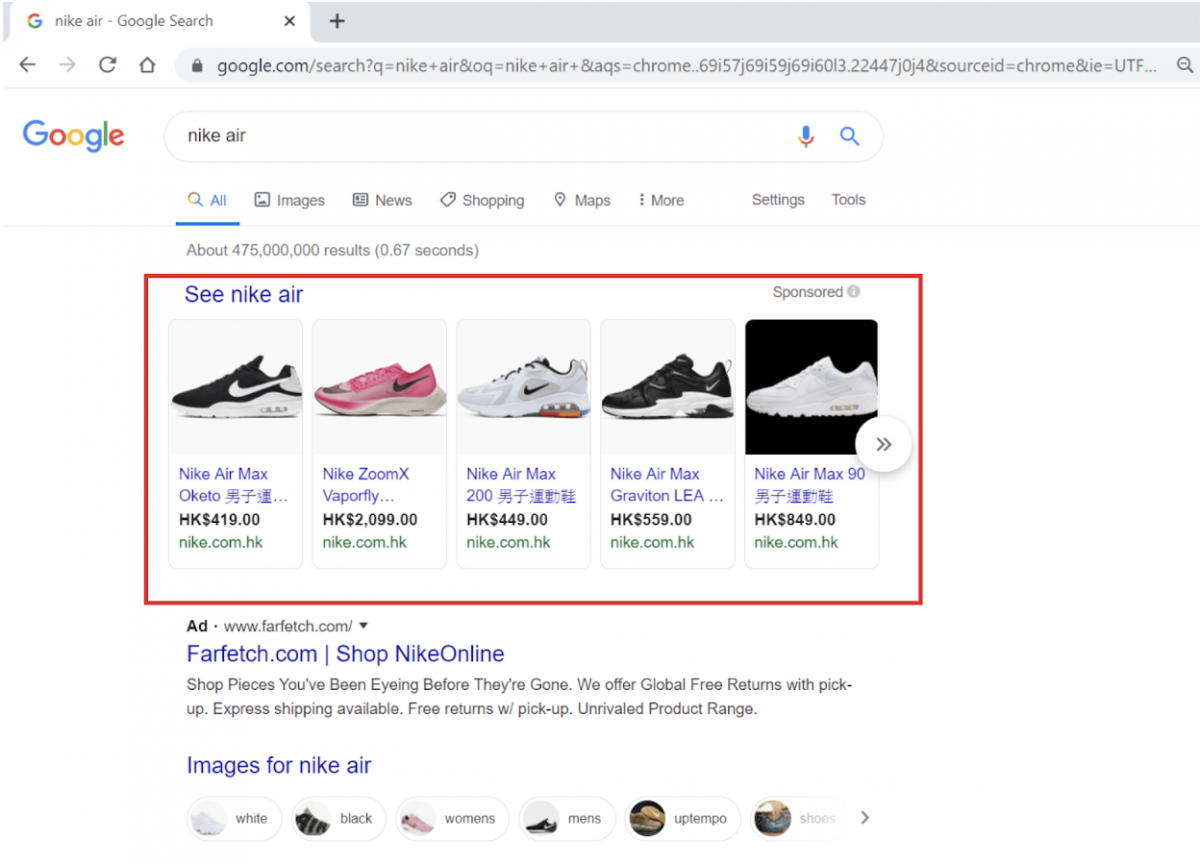 The title of the product
The title of the Google Shopping Ad will let the viewer know about the specification of your product i.e. the brand, color, size, and more. Try to be as descriptive as possible as it'll allow your product to appear for different relevant searches. Whether your landing page gets displayed for a search will do down to what you include in your product's title. Prefer optimizing your titles as it'll give them a better chance of appearing near the top results. To optimize the titles, add in the relevant terms that people usually search for.
Images
It is rightly said that pictures are worth a thousand words. Even if you try to be extra descriptive, there is nothing that will help the shoppers understand your products in a better way than images. The potential customers can window shop and decide if they'll buy what you're offering. However, remember that the images in your Google Shopping Ads will need to clearly show the products that you're advertising within Google's Specs.
Website's branding
Google Shopping Ads generally associate your brand with your products. Even before the shopper clicks your product's ads, they'll know what your website sells. Viewers who are familiar with your brand will be able to easily identify your business from competitors.
Price
Google doesn't have a minimum cost for Google Shopping Ads. You'll be able to choose a cost per click that is as low as $0.1 and there isn't a minimum daily budget, so you'll have a lot of flexibility with how much you are spending on Google Shopping.

Google Shopping may cost you $1 a day, or $10 a day, or even $100 a day, depending on the level of visibility you want for your products.
You can easily dictate how much Google Shopping Ads cost by increasing or decreasing your daily budget. Also keep in mind that if the cost on Google Shopping is low, you'll also have low Google Shopping Ads visibility.
Where are Google Shopping Ads displayed?
The Google Shopping Ads are displayed at the top or with the Google Search Results Page. As mentioned above, these will appear when the product of your title matches the search term or when you've already searched for particular products.
Google Shopping ads are also displayed to shoppers on the go on their mobile devices, tablets, and PCs.

Your ads can be visible to the viewers on the shopping tab on the Google homepage. The viewers will have a more rounded experience with a greater opportunity to compare different products and their prices.
How to define the success of Google Shopping Ads?
The setup and management of Google Shopping Ads will be very different from setting up traditional text ads. With text ads, you'll be creating campaigns and ad groups that are focused around the chosen keywords whereas, with Google Shopping Ads, Google will determine when your product's ads show up. Google will consider your feed, your website, and your bids in order to determine which search triggers your ads. Due to that, setting up Google Shopping Ads has strong similarities to SEO.
Success with Google Shopping Ads boils down to three primary areas for the most part:
Feed creation and optimization
This will cover a lot of ground, including your product's data, images, and price.

Bidding
There are many different ways to bid successfully. Bidding can be somewhat complex. Making strategic shifts in your bidding strategies will help double the return on the ad spend for different campaigns.

Monitoring and Optimization
One of the biggest benefits of Google Shopping Ads is that it gives you the option to see granular performance data and make granular optimizations. Consistent, proper monitoring and optimization will take a decent campaign and turn it into a great campaign.
What are the benefits?
There are a number of benefits to Google Shopping Ads that brands don't get with other avenues. These shopping ads allow you to focus more on the best possible return on the spending on your ads. Where search and display ads will target shoppers at every stage of their purchase journey, those who click on Google Shopping Ads are often closer to buying.
You'll be able to advertise product images, but, unlike normal ads, you'll be appearing for the viewers that show intent to purchase.
Another benefit would be the ability to take advantage of Machine Learning. By creating Google's Smart Shopping Campaigns, you'll be able to get access to automatic dynamic remarketing. Once the viewer clicks on your shopping ad, they'll be shown the product on Google's Display Network. As such, the viewers can see an ad for your product and brand on numerous websites including YouTube.
There are many considerations for Google Smart Shopping and you can read more about it in the Digital Nomads Hong Kong blog.
Here at Garage Academy we also organise various workshops and seminars on e-Commerce and digital marketing. Sign up on Garage Commons to stay in the loop and be the first to receive more contents like this one!
About the author
Francesco is the managing director of the agency Digital Nomads Hong Kong, a former Googler with the passion for lead generation, digital marketing and workshops. He is also a member of the digital committee of the Hong Kong General Chamber Of Commerce. During the last 3 years together with his team he has helped companies in Hong Kong to embrace their digital transformation process and has organised a multitude of events focused on online marketing.
Published on 4 March 2020 | Written by Francesco Bonafine