As part of our #BeTheChange series, we sit down and discuss how people and businesses have evolved, with change-makers in our Garage Community.
Sebastian, our Head of Community sat down with Galvin Widjaja, CEO of Singapore-based AI company Lauretta.io, to discuss his journey as an entrepreneur, why AI technology plays a role in our changing relationship with commercial spaces, and why AI could be bad news for the future of travel.
---
Garage Society: Share a bit about yourself and Lauretta.io
Galvin Widjaja: My name is Galvin, I'm the CEO of Lauretta.io.
Lauretta.io was founded in 2016, and we leverage AI to turn existing cameras into smart cameras, while preserving people's privacy.
Our algorithms are designed on the key premise that behaviour implies intent, and so we can gain a lot of insight without needing to track biometric data like fingerprints, face or eye scanning.

GS: Who are Lauretta.io's clients? What questions are they looking to solve?
Galvin: At the beginning, we were doing a lot of retail analytics. This means working with a lot of shopping malls, optimising floor-staff to crowded areas, analysing customer flow, and maximising potential points of sale.
But as we progressed, we asked ourselves the question "Who actually has the greatest needs in capturing others' intent"? We found the answer to fall into two main categories.
Category one are situations that create a lot of false positives. For example, due to social distancing rules, a lot of retail spaces are measuring how often a person is within six feet of another person. But that leads to a lot of false positives because it happens all the time. Instead, we prefer to answer questions like "Who are they with?" and "Are they friends, or are they family?".
Category two are situations where failure is critical. We found that it's the security sector where our technology matters most. While we still have a strong retail business, 80% of our revenue comes from the military and specialized police in the US, Singapore, and Australia.
GS: We've been living through some challenging times. How has this affected your business?
Galvin: Surprisingly it's been extremely good for business - we grew 14-fold between 2019 and 2021. As people re-evaluate their relationship with office and commercial space, they want to have more data on how people are utilizing the space.


GS: What is unique about Lauretta.io that allows it to infer a person's intent?
Galvin: Our algorithms are designed on the key premise that behaviour implies intent. We do a few unique things, such as non-biometric long-distance tracking. This helps us get an idea of why you're in a space, based on the micro-actions you exhibit.
Take an example from the security industry. The technology for detecting abandoned bags as a bomb threat has been around for 10 years but why is it that almost no cities are running algorithms for abandoned bag detection on the subway?
The answer is because everyone puts down their bags! Current algorithms will produce thousands of false positives each year, but only a handful are a real risk.
Our system can capture the series of specific behaviours an average person exhibits (eg. putting down their bag and then sitting next to it), then use this as comparison data to catch behavioural anomalies for investigation (eg. putting their bag down and then walking away). We've reached the level where we can turn 2000 false positives into just 3 - 4 false positives, at which point this data becomes meaningful enough for a security guard to go take a look.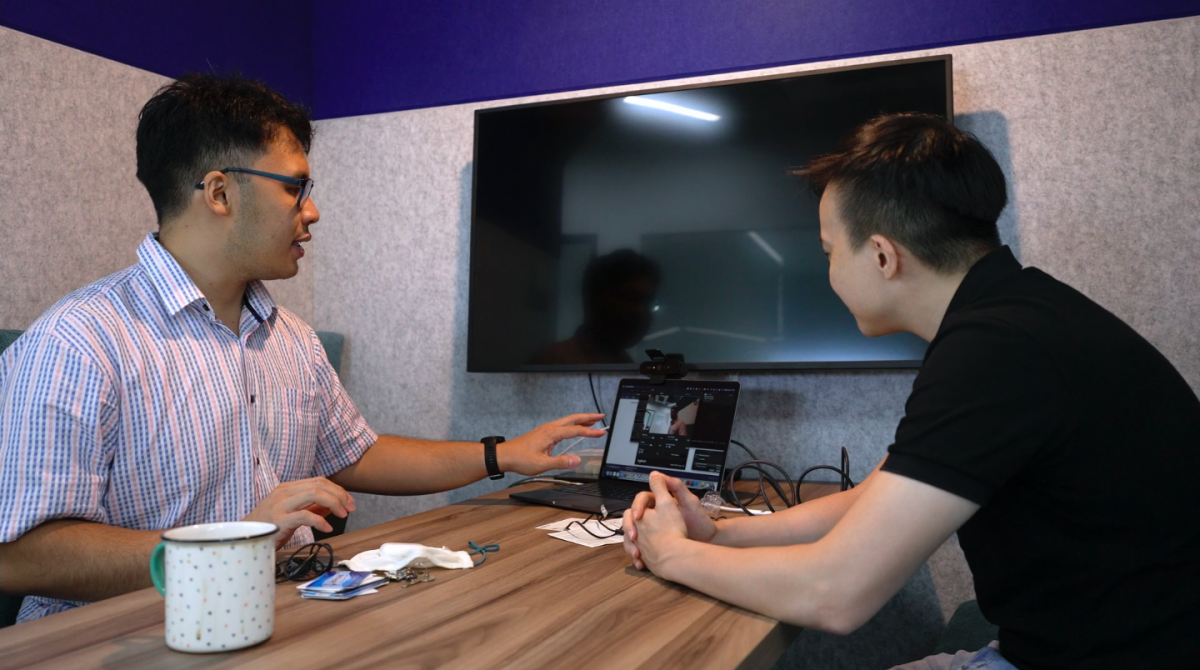 GS: What are some challenges you've faced as an entrepreneur?
Galvin: About 10 years ago, I was working in the banking industry. One day I decided to quit my bank job even though I had just been promoted. At that point, if I hadn't quit, I would almost certainly have been able to live comfortably for the rest of my life!
As luck would have it, my wife became pregnant two weeks after I quit the job. If I had just waited two weeks, I definitely wouldn't have done so! Following that, I spent all my money within the next six months. I self-funded my ventures, borrowed money, and maxed out every credit card to pay salaries.
It's quite a typical startup story, and I've done it a few times already. And yet, we always keep going.
---
Related Articles
---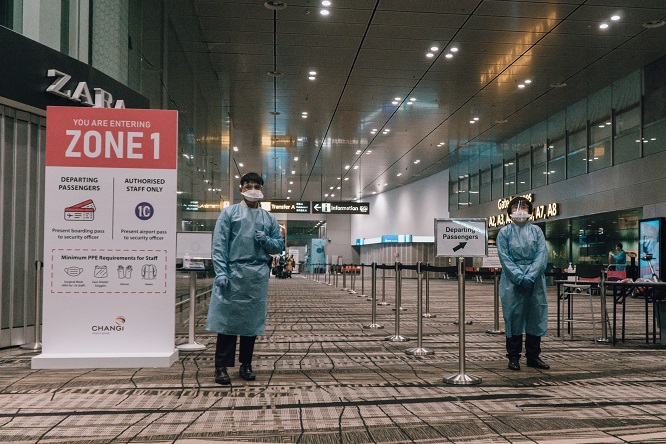 GS: Can you share some highlights about your recent work? I heard you recently secured a deal with Changi Airport!
Galvin: The last few months have felt like a highlight reel for the company! My co-founder, Jason, authored a paper that has become the basis for Singapore's AI ethics strategy as a nation.
Our new partnership with SG innovate has led to us doubling our staffing. And yes, we've recently been selected as a key provider of PPE safety at Changi Airport.
Changi airport is gearing up for something they call "Zone One" - essentially, this is a transport hub where they allow people from other regions to enter the country again.
Because of this, they need to ensure that everybody is fully covered in PPE gear within this space. If their gown doesn't fully come down to their gloves, they will be stopped and fined. Because our algorithms are well trusted within the community, we've been selected to carry out the PPE checking for the entire zone.
PPE detection is a very simple thing, and can be captured using only a low-cost camera. This is set to launch in mid-July, so it's been a very hectic few weeks!
GS: What are your thoughts on technology helping to fight the coronavirus?
Galvin: The use of technology from the Singapore government has been amazing, through apps like TraceTogether.
It integrates vaccination data, and also plans for the future such as vaccination passports. I believe Singapore is a champion of this process, and technology has definitely been a massive asset.

GS: Computer scientist Andrew Ng eloquently described "AI as the new electricity." How much will AI change the future of travel?
Galvin: The statement goes: "Data is the new oil and AI the new electricity".
Andrew Ng is a very interesting person. A bit of trivia, as an aside - he was educated at Raffles Junior College and represented Singapore at the International Math Olympiad in the 90s!
In terms of travel, there are two parts of this that shouldn't be mixed: Machine learning and AI.
Machine learning is all about statistics and optimization. And it has been a big differentiator in the travel industry over the last two decades because it's made travel more accessible in terms of dynamic pricing and maximising the efficiency of air travel.
On the other hand, I believe AI will do the opposite, making travel less meaningful instead. AI is always coupled with "4.0 technologies", like AR, VR, drones and sensors. Why bother to travel if it can bring the experience to you right here? It can even give you an Instagram filtered version of Rome! 80% of people won't have the motivation to visit the Leaning Tower of Pisa in person, and the 20% of people who do go will be disappointed that it looks worse in real life!
That is a very depressing and problematic way of experiencing both travel and history. But it's definitely happening now.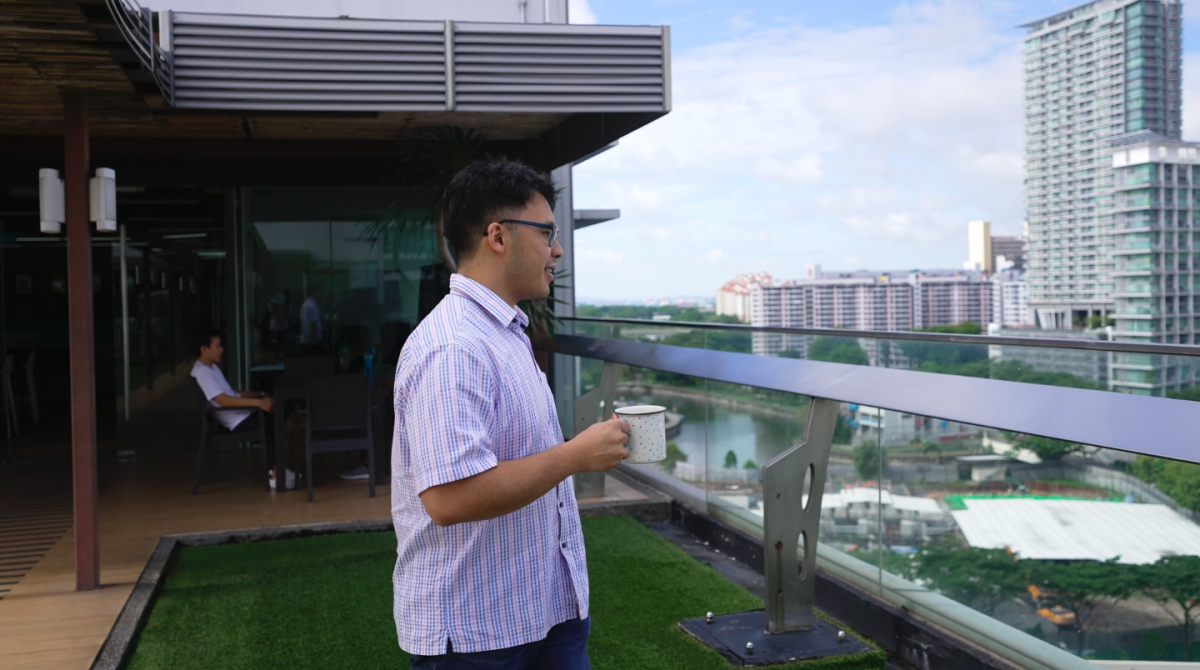 GS: What would you like to see more in your field?
Galvin: There are a few things we want to see more of in this field in Singapore.

One is greater dedication towards AI ethics and privacy, especially being more transparent about the way data is being used.
Two, I'd like to see more emphasis on fundamental research, so that the best algorithms aren't just controlled by giants like Google and Facebook.
While our company has a lot of revenue from the US, we choose to raise funds and keep our core research base here in Singapore. We want to celebrate the local software engineers, developers, and computer scientists. Don't think that the only way to succeed is to work in Silicon Valley! There are plenty of exciting AI companies right here in Singapore that can use your expertise.
---
When Galvin isn't busy with his project at Changi airport, you can find him at Garage Kallang, making the most of his private office for strategic brainstorming, and enjoying the view from the terrace.
To learn more about Lauretta.io's work, visit their website.

Editors note: This interview has been edited for length and clarity