Ever heard of Yum Cha? If you live in Hong Kong, chances are you probably know or have heard of this concept before. But what is the fuss really about?
Yum cha is Cantonese for drinking tea or more commonly known to people as going out for dim sum. The practice dates back to the Guangdong province of combining Chinese tea and brunch and is a quintessential part of Hong Kong dining culture. Traditionally, yum cha is done during early afternoon or morning, in the company of friends and family at a local diner or cha chaan teng. For most Hong-Kongers, dim sum is the smell of comfort food.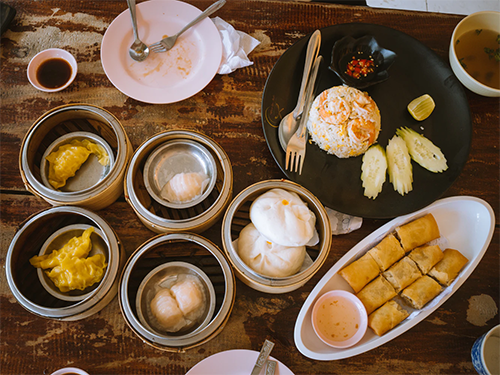 Char siu buns in bamboo steamers, freshly brewed pu-erh tea, steamed shrimp and chive flour rollsー Hong Kong yum cha scene is a diverse world out there. Here, we give you 8 specially selected restaurants for dim sum in Central, Hong Kong's busiest neighbourhood.
City Hall Maxim's Palace - A Hong Kong Classic Dim Sum Restaurant
You simply can not go wrong with Maxim's Palace. Located in City Hall in Central, Maxim's Palace is the go-to option for many local Hong Kongers and tourists alike. Enjoy a gastronomic spectacle, as trolleys filled with freshly fried snacks get pushed around. Sample local favourites like steamed pork and crab roe dumpling or steamed chicken's feet with black bean sauce. Expect some waiting time, because this place gets packed, especially on weekends!
Address: 2/F Low Block, City Hall, Central
Yum Cha - A Modern, Fun and Whimsical Take on Yum Cha
Turn your flash on and get your Instagram filters ready because Yum Cha is going to be the picture-perfect lunch spot on Des Voeux Road, Central. Their fusion, modern take on classic dim sum offers some playful bites that will be rememberedー its iconic cuddly and cute "vomiting" custard buns that resemble caricatures, delectable piglet inspired char siu baos, or their doggy sausage rolls.
Address: 2/F, Nan Fung Place, 173 Des Voeux Road Central, Central
Lin Heung Teahouse - An 80-year-old Institution with Authentic Delicacies
Evoke an old-school charm and go back in time at Lin Heung Teahouse. At Wellington Street, Central, this is an 80-year-old institution, serving dim sum and quality teas. You'll find some of the best lunch deals here, with no additional service charge and dishes like soy sauce chicken and fried rice noodle "sing chow" style are just under $100. You'll love the authentic vibe here, with authentic China, bamboo steamers and a true Hong Kong dim sum diner experience.
Address: 160-164 Wellington Street, Central
Duddell's - A Glamorous, Michelin-starred fusion experience
Looking for a glammed up affair or the best place for business lunch in Central? Head over to Duddell's, an art exhibition venue slash Chinese fusion restaurant that's been awarded a Michelin-star. From the plush Art Deco decor, to the personable service, there's nothing not to love at Duddell's. Prices here are a tad expensive but you'll expect the best of the best from foie gras dumplings with coriander to a Western take on a shrimp rollー Duddell's rice roll with barbecued ibérico pork, fungus and shrimp.
Address: 3-4/F, Shanghai Tang Mansion, 1 Duddell Street, Central
Dragon-i - Central nightclub for the best Dim Sum Brunch
You'd be surprised to know that Dragon-i, a chic and hot nightclub also serves some of the best dim sum in Central! Try their all-you-can-eat dim sum selection or maybe opt for a la carte, with their vegetarian and new Omnipork options. We love their steamed spinach dumplings, or a more decadent steamed pork and scallop dumplings with black truffle.
Address: UG/F, The Centrium, 60 Wyndham Street, Central
Tim Ho Wan - Affordable Michelin-Starred Dim Sum in Central
A great cheap eat all throughout the city is Tim Ho Wan. Packed with business workers and tourists, you'll find an authentic Hong Kong yum cha experience here, at the most affordable Michelin-starred restaurant in the world. From steamed eggplant stuffed with meat and shrimp to deep-fried bean curd sheet roll with shrimps, don't expect to spend more than $100 per person at Tim Ho Wan!
Address: Shop 12A-12B, Hong Kong Station Podium Level 1, IFC Mall, Central
Social Place - Yum cha with a Chic and Western flair
Take your friends and colleagues to Social Place for an exciting yum cha experience in the Central District. It's a unique place specializing in contemporary Chinese cuisine with an artistically Western flair. Steamed Rose shaped Floret Bun? Or how about their lavish, gold laced Charcoal Custard Buns? Maybe some vegetarian Truffle Shiitake Buns? Splurge for a special occasion and enjoy this contemporary rendition of yum cha!
Address: 2/F, The L Place, 139 Queen's Road Central, 3568-9666
Mott 32 - Dim Sum Dining in Elegant Ambience
Escape the clamour of traditional yum cha parlours, go for dim sum in a sleek basement at Mott 32. The place was awarded the 'World Interior of the Year' in 2014 and Foodie Forks Awards' Best Restaurant in 2017. The interior is for sure luxurious, with its dimly lit and moody space. Take note that there's a smart casual dress code! Sample a unique kurobuta, soft boiled quail egg and black truffle siu mai or their iconic Apple wood roasted 42-days Peking duck.
Address: Standard Chartered Bank Building, 4-4A Des Voeux Road Central
Looking beyond yum cha in Central? Do you need an office in the neighborhood? Garage Central - DVR has the perfect coworking space at 33 Des Voeux Rd Central, Central. Our coworking spaces are used by dynamic entrepreneurs, creative independents and freelancers. Coming in late October 2019 is our brand new space at Garage Central - QRC. Located in a grade-A office building boasting seaview and premium facilities, ideal for high profile members from the professional services industry. Click here to contact us for more queries and more information about Garage Society!
Or if you want to stay informed and up to date with the latest industry news and tips, go ahead and sign up now for a free Garage Commons membership now! Garage Commons is our membership platform for Garage Society. With a wide network of thought leaders and entrepreneurs, we provide business support, event planning, investment and so much more!