If you are still lamenting how boring airport layover experience is, your next layover in Singapore will change your mind. Awarded by Skytrax as the World's Best Airport for 5 years in a row, Changi Airport in Singapore has rightfully earned its reputation, taking airport transit experience to the next level with its incredible range of activities and attractions across the three terminals. Located within the same physical building, the three terminals are conveniently linked via Sky Train, its mono trail system, making sure that travelers will make the most out of their transit in Changi Airport.
From strolling around the indoor gardens to immersing yourself in cool art installations to taking a thrill ride on a giant slide, your time during transit in Changi Airport will be very well-spent. Read on for the top 8 things to do in Changi Airport to make the most of your transit!
1. Visit the Jewel (T1)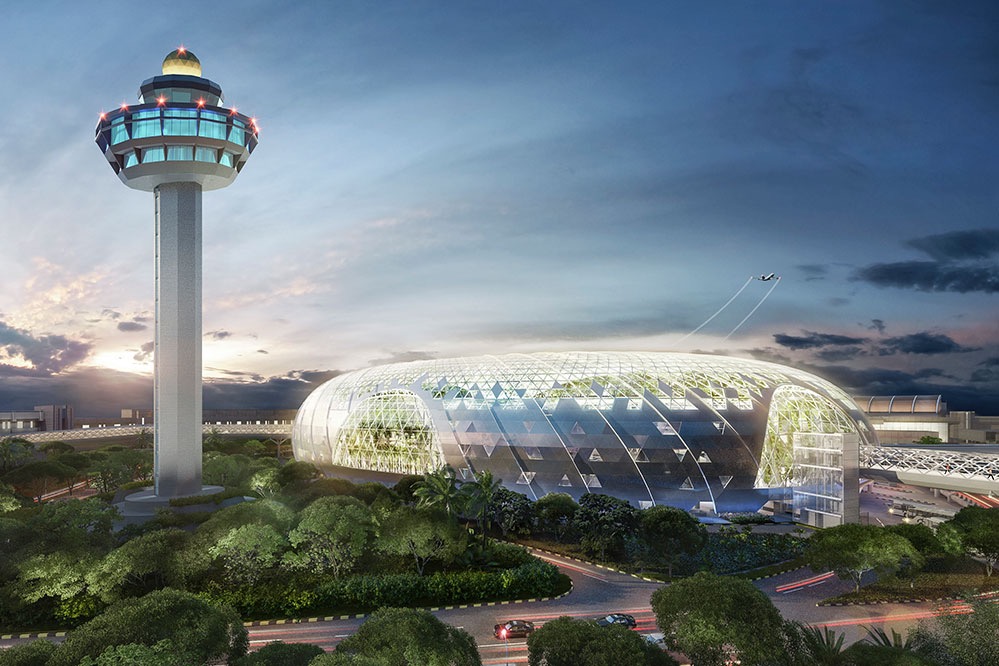 Inspired by the Nature, the Jewel in Changi Airport is a 10-storey retail and entertainment complex that is filled with inspiring attractions and unique retail and dining concepts. It houses the world's tallest indoor waterfall, Rain Vortex, which is recently opened in April 2019. It is 40m in height and surrounded by a four-storey terraced forest. There will be light and sound shows every day from 7:30pm to 11:30pm at hourly intervals. Do stop by and soak in the mesmerizing scene if you happen to be there during those hours!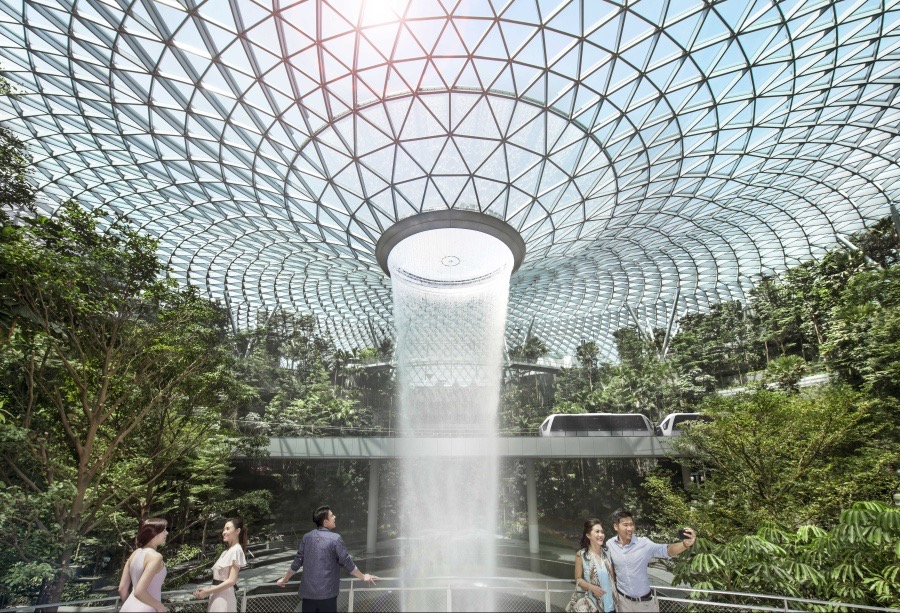 Other attractions include the Forest Valley which has walking trails set around more than 22,000 square meters of landscaping, 11 cinema IMAX theatre, Canopy Bridges and Mazes, a hotel, aviation facilities, and over 280 retail and dining facilities.
2. Connect anytime at Connect at Changi Airport (T2)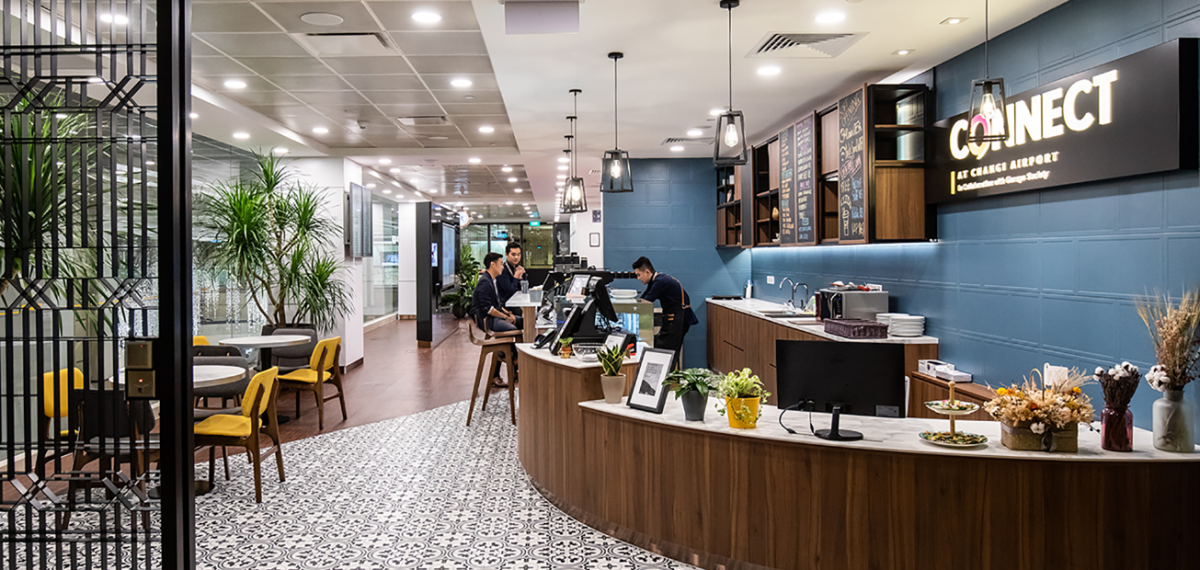 Looking for a place to work between flights or simply chat over coffee? Connect at Changi Airport is your place! It is a business networking lounge in T2 transit area, equipped with meeting/networking spaces and free WiFi. It is a collaboration between Changi Airport Group and Garage Society, featuring a holistic innovative experience from workspace, meeting venues to global community networking for travelers.
3. Take a stroll in the indoor gardens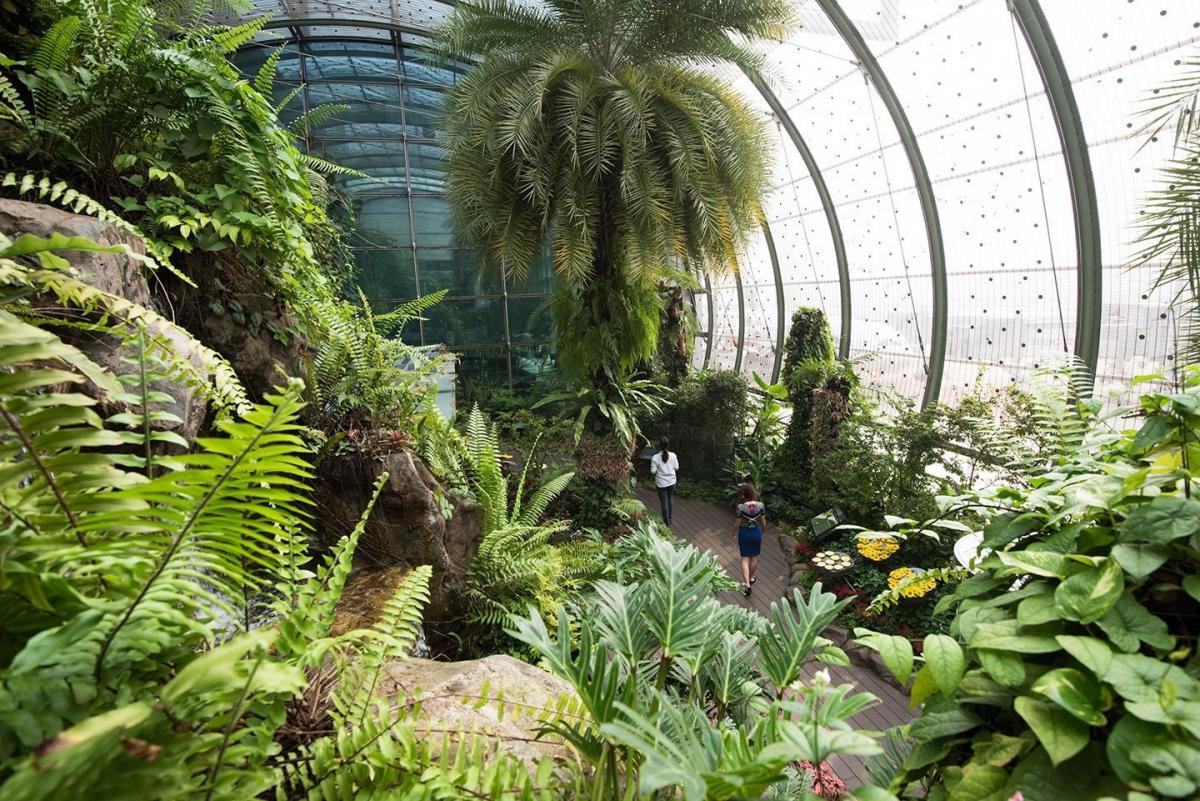 Explore the 5 nature-themed gardens across terminals in Changi Airport to get a dose of nature and shake off that cabin air!
Butterfly Garden (T3)
Located in T3, Butterfly Garden is the world's first butterfly habitat in an airport. With a 6-meter grotto waterfall and full of lush flowering plants, it displays over 1000 butterflies, and up to 40 different species. To satisfy your curious mind, head to Education Corners to learn about their lifecycle - you can even see the breeding and feeding of butterflies at close range in individual enclosures!
Orchid Garden By The Koi Pond (T2)
Who doesn't love orchids? The Orchid Garden has over 700 orchids from more than 30 species on display, grouped by their various colours and shapes. Do pay attention to the details of the display design - it is specially designed to reflect the 4 elements of nature: Earth, Water, Fire, Air.
The Enchanted Garden (T2)
Have an eye-opening experience at the Enchanted Garden! Once you step foot into Enchanted Garden, you are immediately invited to a magical living. Relax and soak in the sounds of nature and the sight of blooming flowers, as you walk along the fascinating carpets of sparkling lights.
The Sunflower Garden (T2)
Can't wait to get a burst of sunlight and fresh air? Located outdoor, the Sunflower Garden is the haven for vitamin D lovers! With a 500 strong sunflower patch, it has the much-needed natural light and natural scenery, helping travelers freshen up their minds and brighten up their moods after a long and dull day indoors.
The Cactus Garden T1
With an open-air bar and sometimes live music, this place is a great alternative to the rooftop pool if you are short on time. You can also explore a landscape of over 100 different types of Cacti and arid plants from the deserts and dry areas of Asia, Africa, and America!
4. Pamper yourself with massage (T1-2-3)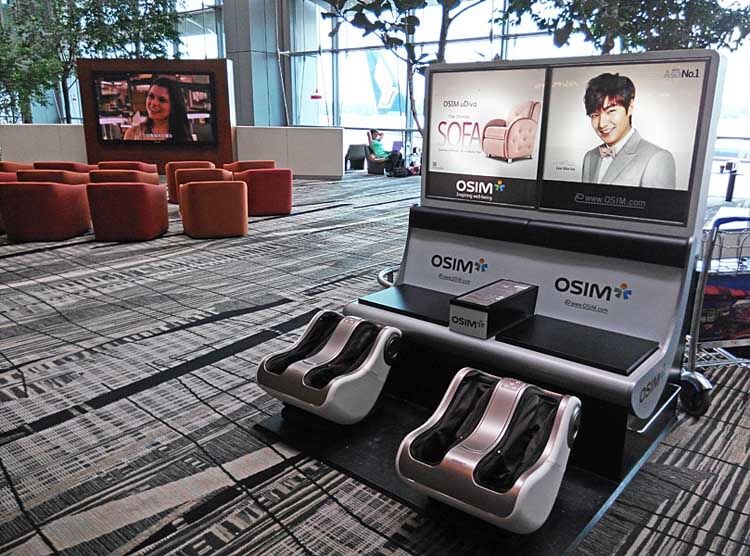 Exhausted after a long flight? Changi Airport will help replenish your mind and body with relaxing massages! As you walk down the corridors to the departure gates in each terminal, you will soon discover several banks of two OSIM automatic foot massage chairs. Put your tiring foot in the booties and enjoy a 15-minute foot massage!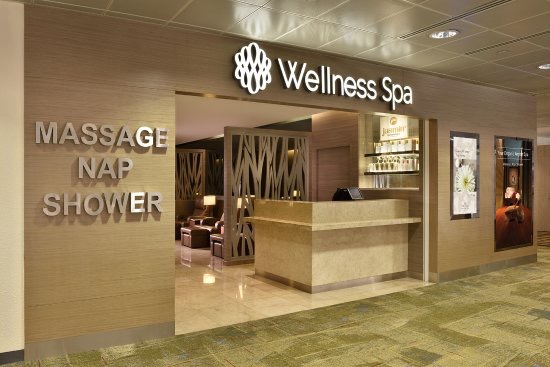 If your body screams for more, there is a spot for a full body massage which is near the Wolfgang Puck restaurant in T1, although it's most likely that you will need to queue for it. If you have plenty of time and want a quiet place for rejuvenation and relaxation, consider the Wellness Oasis in T1. It accepts walk-in clients for massages, reflexology, or simply a hot shower.
5. Ride the thrill on The Slide (T3)
To all the low-key thrill seekers, whizzing down the airport is no longer just a crazy thought in your head! You can get your thirst for thrills fix on The Slide here in Changi Airport for a mere S$10! The 12-meter slide is the tallest slide in Singapore and also the world's tallest slide inside an airport, easily making it one of the highlights for adventure in Changi Airport. Apart from directly paying to get the ride, simply spend S$10 in the airport and you will get one free ride!
6. Be part of Changi's history in The Social Tree (T1)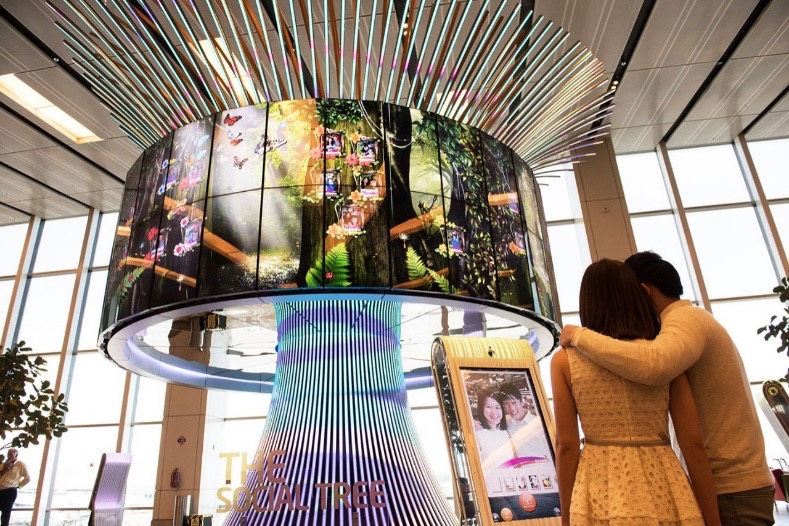 Changi Airport has an interesting installation that allows you to leave your marks every time when you visit there. Standing at close to 9 meters tall, The Social Tree is the airport's largest interactive installation that is surrounded by 8 touch-screen photo booths, inviting travelers to become part of Changi Airport's history by allowing them to "attach" photos and videos onto its colourful and animated crown of the structure. These photos and videos will then be saved into a "memory capsule" which will be kept for decades to come and travelers – and their families – could retrieve and relive their digital memories when they are in Changi Airport.
7. Game your day away at The Entertainment Deck (T2)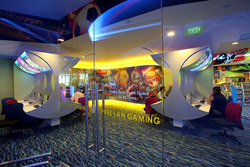 If you are still not satisfied after trying out the above activities, pop over to The Entertainment Deck and game your day away for free. Even if you are not an avid gamer, you will be soon distracted by the diverse range of gaming stations and set-ups from Xbox 360s to PlayStation 3 and even an Xbox kinetic Room where games are controlled by your movements and voice. If you are traveling in a group, challenge your friends or families by testing each other's dexterity! These games would give you all a full body workout and good hours of fun.
8. Recharge yourself at the Snooze Lounge (T1)
If you are looking for some cosy spots to relax and doze off, the transit area in Changi Airport has plenty of snooze spots for power naps - and they are completely free which is the perfect alternative to airport transit hotels!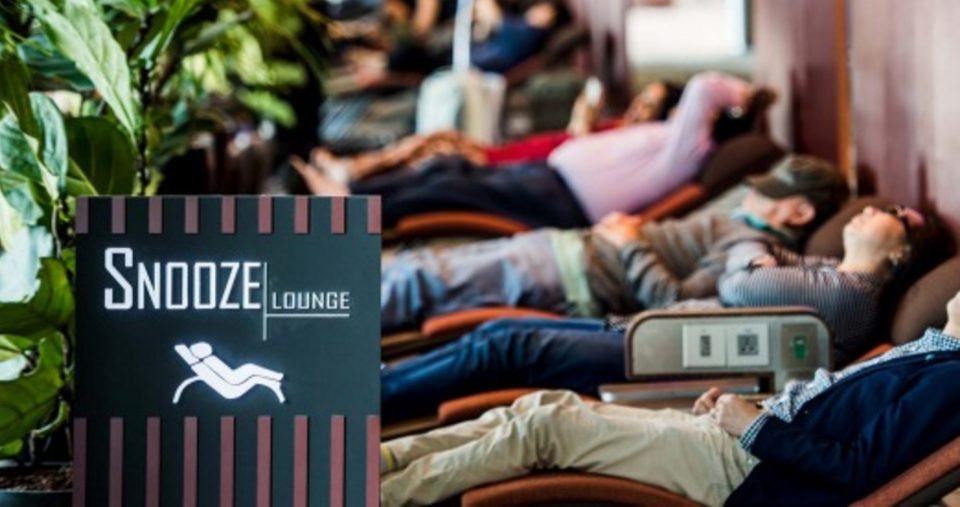 Tucked away from the main bustling areas, the Snooze Lounge is a quiet zone with multiple well-cushioned reclining chairs, giving you the privacy and comfort you need for rejuvenated naps. Some of the chairs are with charging ports so you can recharge yourself and devices at the same time. You also get a clear view of the airport runway with soft diffused lighting.
Whether you are looking for a space to work during transit or a place to chat over a coffee, Connect at Changi Airport is definitely a place to visit. It is conveniently located in the airport with quality amenities including private meeting rooms, large multi-touch display screens and phone booths. Click here to learn more about how you could make use of your time in the airport at Connect at Changi Airport.
Reference:
https://adventuresallaround.com/changi-airport-singapore-ten-top-things/