When you think of Hong Kong, you might not easily associate it with a bustling art hub. But this perception is about to change. Hong Kong's street art scene is starting to take off, along with a wealth of international, world-class art galleries and exhibitions that took place in recent years. Sai Ying Pun, the new hipster central in Hong Kong, is home to staggering creativity and some of the liveliest street art in the city. This trendy district is also home to a number of brilliant cozy cafés, a perfect place for you to spend a leisurely day enjoying some thriving street art in Hong Kong over a nice cup of coffee.
ARTLANE
WHY IT IS AMONG THE BEST STREET ART IN HONG KONG:
Like its neighboring Sheung Wan, San Ying Pun represents a unique mix of cultures, of modernity with tradition: century-old buildings standing next to fancy new residential complexes, dried seafood shops, local eateries alongside modern specialty cafes. Thanks to an exciting urban art project, ARTLANE, initiated by Henderson Land, Sai Yin Pun has also been transformed into a "mural village", along from Ki Ling Lane, Shek Chan Lane to Chung Ching Street, with more than 10 pieces of artwork on display around the area. Inspired by street art from New York, London and Seoul, the project brings together nine international and local artists to give the neighborhood a unique artistic face based on the theme of art and music of Soho.
WHAT TO SEE:
Stepping out of the Sai Ying Pun's MTR station from exit B3, you will soon find yourself surrounded by a kaleidoscopic canvas, made up of vibrant murals with distinctive characters and styles across the façade of different building walls. Here are some of the must-see murals in the neighborhood.
1. Urban Jungle by Hong Kong-based artist and illustrator Neil Wang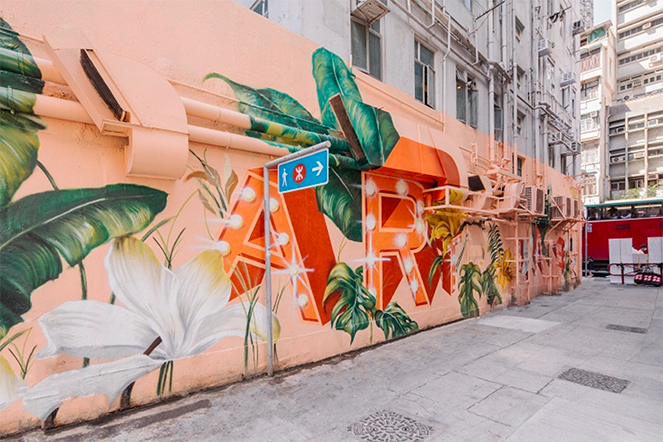 2. Transformation by Finnish artist Riitta Kuisma, composed of three murals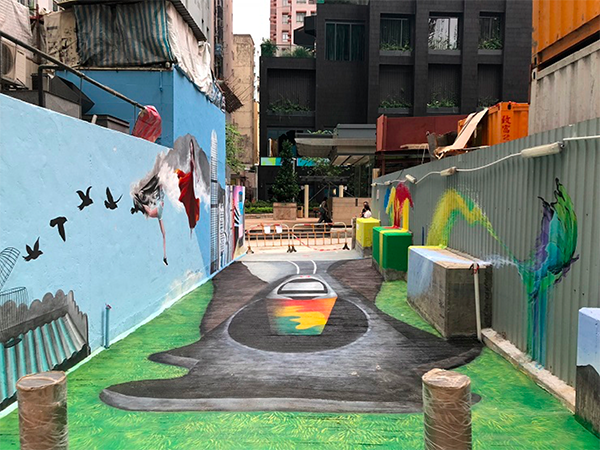 3. Little Girl Watering Plants by local artist Zue Chan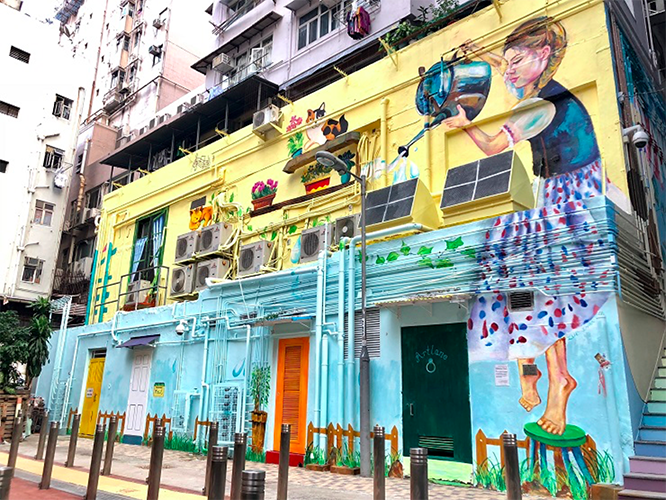 4. Rainbow Staircase by artists Blessy Man and Henry Lau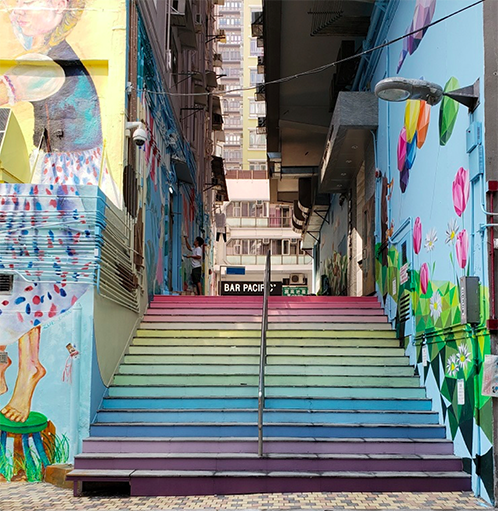 5. Music Town by artist Zue Chan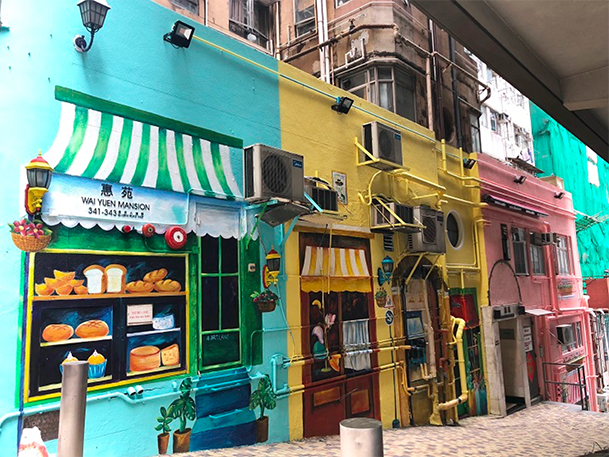 TUCKSHOP BY SOCIAL CLUB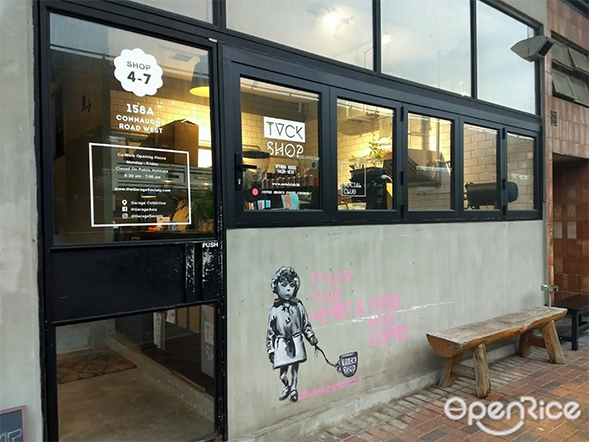 WHY IT IS A MUST-VISIT CAFÉ IN SAI YING PUN:
Tucked away in the more spacious and hidden part of Sai Ying Pun, the Tuckshop by Social Club features a simplistic, industrial décor taking you away from the frenetic pace of Hong Kong's lifestyle. Located in the Garage Collective, a co-working venue of Garage Society, this cosy Sai Ying Pun caféallows you to soak in the warm ambience overlooking the street scene over a well-made cup of coffee, with upbeat music playing in the background. If you have been recharged by a short trip exploring the urban beauty in side streets and alleys in Sai Ying Pun, you can also bring your laptop along to work while enjoying the natural light that comes through the all-glass façade. With a little caffeine kick, your day will surely be more than well-spent.
As its name, "Social Club", might suggest, the café is committed to bringing to the community quality and cultivated experience blended together by lifestyle and coffee. Along with its sustainable practice which abandons the use of plastic straws for metal straws, the café brings the community closer by organising different kinds of workshops every Friday from latte art to flower arrangement.
Tuckshop by Social Club, Shop 4-7, G/F, 158A Connaught Road West, Western District, +852 59363588
GARAGE COLLECTIVE
Featuring theatre-style seating on the mezzanine floor with projectors, stellar sound system and acoustics, Garage Collective in Sai Ying Pun is the first co-working and lifestyle hub with a pet-friendly policy in Hong Kong. It boasts F&B offerings, design-centric pop-up stores and creative event spaces, aiming to provide a holistic experience that encourages collaboration, innovation and business networking. Like many other co-working offices of Garage Society, Garage Collective offers flexible workspace solutions in an all-inclusive deal with no hidden cost. Here are some workspace solutions to help you grow your business.
HOT-DESKING
If you are working solo and do not mind sharing with others, a hot-desking plan will be the best fit. Depending on your business needs, a hot-desking plan varies from light to part-time to full-time, all with a locker storage unit.
Light Hot-Desking: 5 days of access per month at HKD$ 1200
Part-time Hot-Desking: 10 days of access per month at HKD$ 2400
Full-time Hot-Desking: 24/7 access at HKD$ 3800
DEDICATED DESK
If you feel like working in an isolated environment with minimal disturbances, you can opt for a dedicated desk. At HKD$4500 per month, you can have a lockable cabinet with more room for privacy.
For more information, you can also check out our plans in more detail here. If you want to look at other areas, please feel free to contact us here at Garage Society. We have 4 great co-working spaces in Hong Kong and 4 in South East Asia with a continuous expansion plan. We will be more than happy to invite you in for a site visit to find the perfect place to grow your business.
Reference:
http://hkphotoworkshop.com/three-of-my-favorite-places-to-shoot-street-photography-in-hong-kong/
https://hktravelblog.com/local/the-best-street-art-in-sheung-wan/
https://www.openrice.com/en/hongkong/r-tuckshop-by-social-club-western-district-western-r563420
https://www.hongkongmadame.com/en/ARTLANE-an-arty-urban-project_a1901.html (pictures of ARTLANE are taken from this website)