March 2022 marks 8 years since Garage Society launched as a single-location, boutique coworking space on Des Voeux Road, Central.
Since then, we've....
Launched 15 coworking locations,
Relocated the Garage HQ 5 times,
Hosted 2 Garage Community junk boat parties (we miss those days!),

And experienced a global paradigm shift in the way businesses operate, negotiate with our physical spaces, and define what it means to be "at work"
We spoke with the Garage leadership team, to reflect on how coworking has changed in the last 8 years, and look towards the way forward.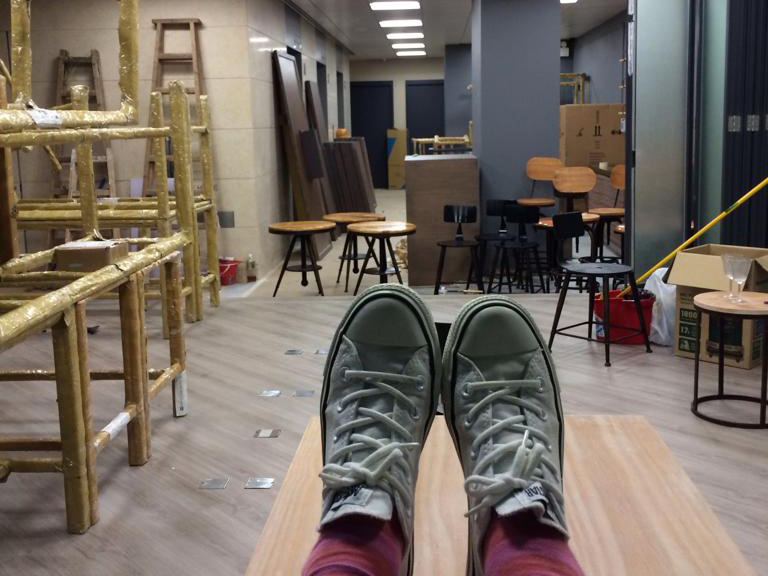 Elaine snaps a photo to commemorate moving into Garage Society's first coworking space in Central, 2014!
---
1. What are your first memories/ experiences at Garage Society? What's changed over 8 years?
ELAINE TSUNG, Founder and CEO: I still remember the early days when we started with a team of just 3 people who took care of everything - operations, finance, marketing, events, you name it.
It was challenging for sure, but also fun and fulfilling. The experience has been instrumental in developing Garage Society into what it is today.
Garage now has a network of operations & teams, but I'm happy to say that we are still who we were. There just happens to be more than 3 people working towards our vision!
All smiles at the open house & launch part of our original Central location
JAMES BERNARDO, Regional Programme Director: I had just moved to HK when Garage started back in 2014, and I hit the ground running by helping to organize our first Startup Job Fair at the original Garage Central location. I distinctly remember the infectious, vibrant energy from all the startups in the room.
We continued to organize job fairs with our expanding network over the years, and our own team grew right alongside it.
Since then we've built regional teams, developed our own tech, and fostered new communities - but we still keep that early entrepreneurial spirit in everything we do.
James and a speaker at an early Garage Academy event, hosted in partnership with General Assembly
---
2. What is a core value of Garage Society that hasn't changed since day one?
​
A surprise parting gift from the Justice Without Borders team last year, who have been part of the community since 2019
ELAINE: Being member-focused; being genuine. It's important to stay true to oneself as a member-focused operation.
I'm happy to see that we now have a bigger team of friendly supportive, dedicated staff, who not only support, but are also the core of the larger Garage community.
JAMES: I feel that we've always been powered by the drive to discover - whether that's exploring new market opportunities, leveraging technology to deliver better community experiences, or ensuring we always lead with curiosity instead of critique.
---
3. What is your WorkStyle? How has this been affected by WFH?
ELAINE: Personally, I still prefer to work in the office, so WFH is not my preferred mode. I love being in the office alongside colleagues - it just makes exchanging ideas much much more efficient.
But as things become increasingly mobile, with virtual meetings becoming the norm, my work schedule has indeed become more flexible.
Perfectly demonstrating that we have space to fit all workstyles (including lounging)!
JAMES: Having been in coworking for the last 8 years means that I'm a big supporter of #WorkingTheNewWay and keeping things flexible.
I'm on a never-ending quest to find the perfect set of productivity & collaboration tools! Wrike, Monday.com, Todoist, Wunderlist (RIP), Notion, Basecamp, Apple Notes - I've tried them all.
The pandemic has only accelerated the movement towards flex work. Our regional teams were already very comfortable working with digital cloud tools, so we didn't have to make too much of an adjustment
That said, you can't beat in-person meetings for key clients or projects. Heading to the office a few days a week also really helps with maintaining solid team relationships.
Mastering the art of online meetings back when Zoom was just something you did to a small photo
---
4. How has the business of coworking changed, locally and globally, over the last 8 years?
We launched [email protected] Airport, a business lounge & coworking space hybrid, back in Feb 2021.Sadly its's closed until further notice​!
ELAINE: In the early days, it took a lot of explaining for those outside the industry to grasp the concept of coworking. Nowadays, most professionals understand the concept well, and many of them have even become big fans of this work mode.
Due to the pandemic, business environment these last 2 years has become tougher. But overall, I would say that the impact on our business has still been manageable.
There is a solid reason to believe that the coworking industry will continue to grow. "Once you go flex, you can't go back!"
JAMES: The biggest change has been the acceptance of coworking beyond the startup sphere and into the wider, corporate business environment.
Coworking is no longer just a novel concept! Businesses around the world are embracing the community aspect of shared office spaces.
Right now we're seeing a shift toward landlords who want to curate their own community-driven workspaces, in a way that allows us to step in and provide support and insights, thanks to almost a decade's worth of experience in community building!

---
5. How has the Garage community evolved?
ELAINE: At Garage Society, we embrace common values of authenticity, curiosity and collaboration. Operating more locations over the years naturally leads to a more diverse mix of members.
Now, I'd like to think that the Garage community is made up of many mini-communities, making it even more interesting and powerful.
Brian Lo, former GM of Deliveroo Hong Kong, posing
with a delivery bag in the Garage office (check out that original logo!)
JAMES: We've grown in all sorts of directions since those early days in Central! There have been some rewarding success stories from community members across APAC.
Personally, I've enjoyed seeing the growth of some of our earliest members, including Uber, Deliveroo and Soundbrenner, plus many others who have remained in contact.
It's very rewarding to know that we've played a tiny part in their journey from a small team, to an industry-leading business.

---
6. What stories have not yet been highlighted in the coworking & startup community? Why are they important?
Garage Team represent at the 2019 RISE Conference
ELAINE: Back when the overall business environment was more positive, there was a lot of exciting startup news about the latest unicorn, or how much funding was raised. We don't really get that kind of inspiring news anymore.
However, I do think we need to have more conversations about the challenges startups and the coworking community have faced over the last 2 to 3 years. Celebration is great, but being able to support each other during vulnerable, tough times is equally important.
JAMES: I still believe that more can be done to connect the ecosystem of very early-stage startups in Hong Kong, with the international, growth-stage startups that call this city home.
These early-stage startups are typically driven by young, local university graduates with great ideas but few resources. The events scene has worked to bridge this gap, but there is still a lot more work needed to fully connect the two.
---
7. What are your predictions for office needs in 2022, as we (hopefully) return to the office?
ELAINE: We've already started to see more 'traditional' corporates coming our way for ideas these last 2 years. The pandemic has accelerated the need to examine new approaches toward workstyles and workspaces.
When we do eventually return to a 'new normal', we're really excited to open our doors to an even more versatile group of members!
Look at that turnout for a summer block party at Garage SYP!
JAMES: It looks like we'll continue to see a dynamic approach to office space this year.
Hopefully, we'll also see the return of larger in-person gatherings soon, allowing some of that vibrant energy that's so important for this city to return to all aspects of our work and personal lives.
Note: This interview has been edited for length and clarity
---
Garage Society helps businesses and individuals work better, through WorkStyle solutions tailored for them.
From entrepreneurs to large corporates, we understand the diverse ways in which people work.
We focus on getting to know you and your business so we can tailor a better and smarter way for you to get work done.
Whether it's hot desks, private offices, or custom spaces for enterprises and MNCs, we've got a WorkStyle solution for you.
Interested in a flexible workspace at Garage? Get in touch with us.